We explained the importance of restaurants running a sales funnel in a previous post. Here, we'll discuss how to actually run one.
To sum it up: The point of a sales funnel is to take someone who has never heard of your business and turn them into a customer. Hopefully, a loyal, vocal advocate.
Let's start at the top, where your funnel should start. The "top of the funnel" (TOF) is the first time you make contact with a potential customer. This could be the first time they've heard your ad on the radio, driven by your roadside signage or, for the sake of this example, seen your Facebook ad.
We're using Facebook ads for this example because we believe, backed up by data, it's the most cost effective way to run a successful sales funnel. Your TOF ad can be simple, something like a tantalizing photo of the house specialty with your logo. After all, we're just trying to get on people's radars.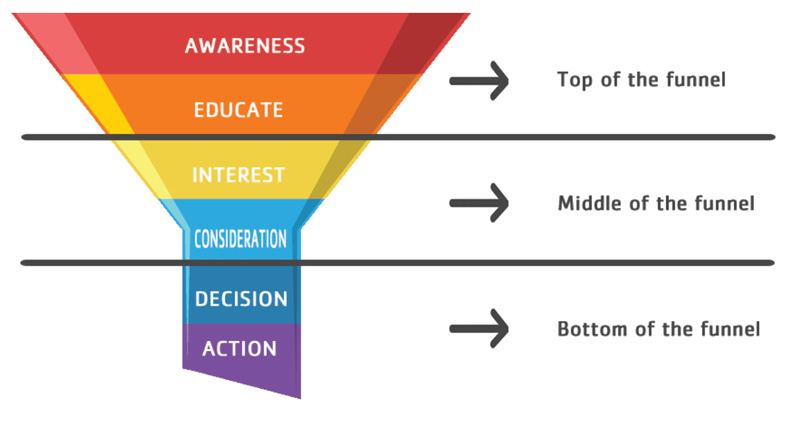 The other crucial aspect of a successful sales funnel is targeting. For the TOF ad, you want a broad reach, but not too broad (see our post about wasting advertising dollars on Facebook's Boost Post button). Most importantly, we want to set a radius around your business. We see so many restaurants boosting posts from different states. Do you want to spend your hard-earned money showing your post to someone in New Jersey? Of course not. Start by setting a radius of people who live and work within 10 miles of your business. These are the people who you're most likely to convert into customers.
Your TOF ad should never stop running. We want a steady stream of new customers, right? You have to keep finding new customers to survive. But right off the bat, you should never launch just one ad. This is where the importance of companies like Crave Digital comes in. You should start with two ads at minimum — and testing. It's so important to be doing A/B testing to check the effectiveness of your ad. Ineffective ads are a waste of money.
Once your TOF ads are landing with new customers, the second wave of ads should be ready to launch. These are targeted at people who saw your first ads. You're going to treat these ads like you would someone you're meeting someone for the second time. They know who you are at this point but only vaguely. You're here to reintroduce yourself. We find graphic ads are the most effective here, because we want to get something stuck in potential customers' heads. Perhaps you'll introduce them to your happy hour specials, for instance. And once again, you'll want two ads, at minimum, which should be A/B tested for effectiveness.
Okay, you've made two contacts with potential customers now, and you're hopefully seeing more people through your doors. Not everyone will be so quick to convert. However, it's not too soon to start being more aggressive. Once a potential customer has seen two of your ads, you should get into details. An attention-grabbing video is a nice way to show the quality and craftsmanship of your food or cocktails. You want to hook people. You want them to think, You know, that looks really good. I've been meaning to check this place out. I keep seeing stuff from them.
You can see how this structured method of advertising is effective. It's a lot like dating. It starts with an introduction, followed by courtship and then marriage. Not all relationships work out and some take longer to develop than others, but it's important to put yourself out there.
If you could use some help running a sales funnel for your restaurant, feel free to reach out to us. We'd love to chat.